Gourmet Food and BC Wines at Mustang Powder
New – Any Wine by the Glass
We are now selling high end wines by the glass with the new Coravin System. It allows us to access, pour, and enjoy our wines by the glass, without pulling the cork. It keeps the wine safe from oxidation, allowing it to continue to age naturally, giving the freedom to pour a glass from any bottle at any time.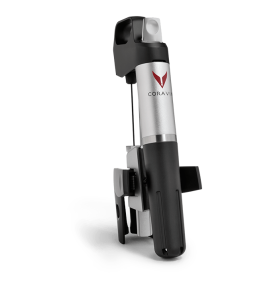 While powder skiing may be our biggest passion, good food is a close second. During your stay at Mustang Powder, our Chef, Baker and Breakfast Cook will treat you to delicious meals and snacks that will keep you skiing fast and hard all day long.
Breakfast includes a daily hot feature, such as stuffed french toast, pancakes, eggs benedict, and quiches. There is always a selection of fruit, hot and cold cereals, as well as bacon, potatoes and sausages.
Our Baker prepares a lunch buffet every morning, with a large selection of salads, cold cuts, fresh baked bread, cookies, squares and savoury treats. Pack as big or small a lunch as you need, and remember to save room for dinner.
Dinner is a four course affair. Soup, salad, main, and a decadent dessert. Our chefs, Tommy, Jason, Pat, and Rick, source fresh local ingredients and locally raised meats including duck, beef, chicken, elk, bison and lamb. In addition, we often have wild BC salmon, or if you're lucky, black cod. Please see Two Rivers Specialty Meats to learn more about where we source our meats.
Allergies and intolerances shouldn't get in the way of a delicious meal and we are happy to accommodate any special dietary requirements during your trip.
Our wine list is entirely from the Okanagan Valley of south central British Columbia and grows bigger every year. Currently we have over 125 different wines, many from small family and boutique wineries. Merlot and Bordeaux style blends headline the offerings from this region, as well as Pinot Gris and Sauvignon Blanc. During your trip you will have the option of enjoying a three course wine pairing with dinner as well as Ice Wine for dessert – an excellent opportunity to explore our wine list and find something you like.
One of our previous Chefs, Graham Pierce, is the wine maker at Black Hills in Oliver. He has a wealth of knowledge about wine and the Okanagan.
We do not recommend you bring your own wine/liquor due to heli weight restrictions for luggage. We have a huge selection of great products! For those who do bring their own bottles, we charge a corkage fee of $30 per bottle of wine, and $40 per bottle of spirits.