Weather, News and last minute Seats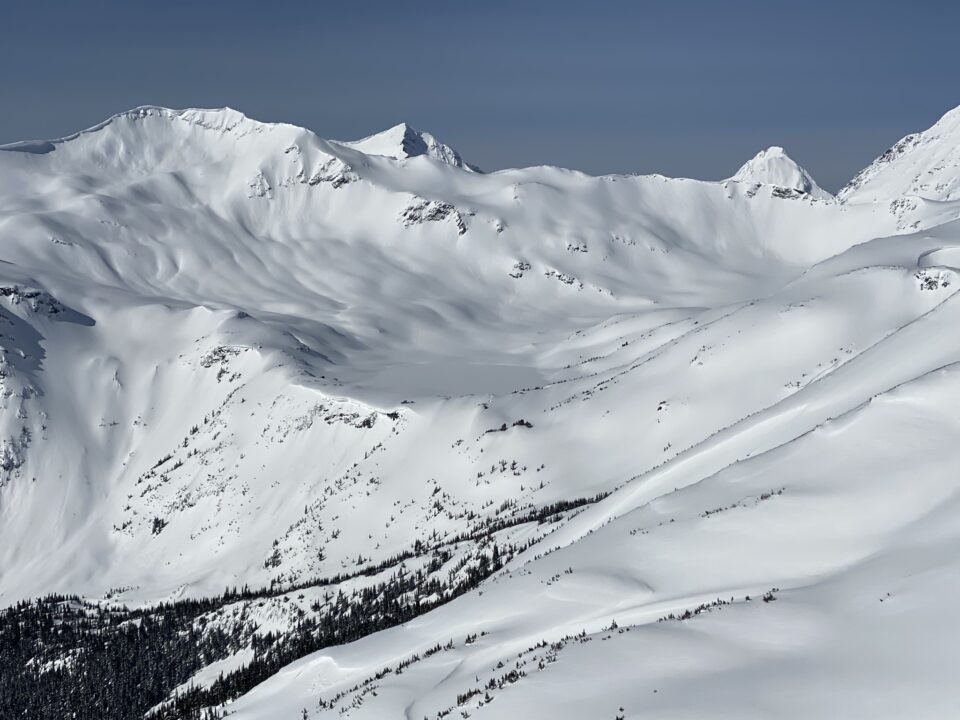 Nick and Ali, the owners of Mustang Powder, are super excited to now be part-owners of Skeena Cat Skiing/Boarding – a similar operation to Mustang, located in Northwest British Columbia in the Skeena Mountains. Like the Monashees and Selkirks, the Skeena mountains are famous for the quality and quantity of snow, and great backcountry ski terrain. Skeena has twice the land permit size as Mustang (around 70,000 acres) and tons of potential to become a top catski company. This season Skeena plans to double the size of the ski area and do many improvements to the Base Camp and the overall ski product. We have available ski holiday dates at Skeena! (Unlike Mustang, which is virtually booked-out). The Skeena ski tenure likely has more treeless alpine terrain than any cat skiing company in the world – and are building cat roads to a lot of this new terrain this season! Don't be put-off by the remote Base Camp – they have great chefs and have created an interesting wine list – you will be warm and comfortable at this camp. Visit www.skeenacatskiing.ca for more details. We hope that you consider booking a trip there.
Skeena Booking inquires:
1-250-877-5249
inquiries@skeenacatskiing.ca
Our Skiing Programs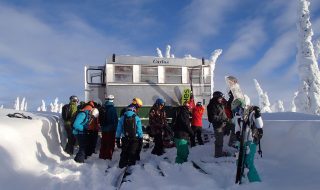 This has been the standard model for the Cat Skiing industry for many decades, and is an excellent and affordable option. You have the choice of forming a full group of 12 of your friends, or booking as a solo, couple or small group and we will slot you into a cat with other guests.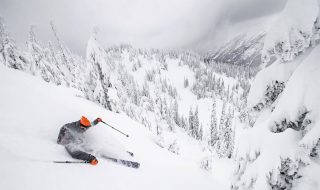 In 2010/2011 we added a "Small Groups, Steep Chutes" program to the roster – a third snowcat with only 6 guests skiing big, steep, challenging and interesting runs, with some ski touring. The program has been a great success with a lot of first descents and sweet couloirs.
Safety
At Mustang Powder our #1 priority is your safety. We have developed a comprehensive safety program and have put together a team of guides made up of some the top and most influential professionals in the avalanche industry. All of our guides are members of the Association of Canadian Mountain Guides (ACMG) as well as the Canadian Avalanche Association (CAA), and many have been guiding for 20 plus years. Click the button below to read more about our Safety Program at Mustang Powder.
Snow Warning
Be prepared for A LOT of deep snow! Our unique location in the Monashee Mountains of BC means we receive a lot more snow than most other Heli or Cat operations in the province. At Mustang Powder, it's no secret that we cater to the strong skiers. Snowboarders must be expert riders. Guests booking with us must be experienced and comfortable skiing or riding in knee-deep powder snow, with the possibility of even more after a big snow cycle. Less ambitious guests will be encouraged to pace themselves or sit out some runs if they are tired.
Instagram @mustangpowder
[fts_instagram instagram_id=800309764 access_token=800309764.da06fb6.7ec8ab8cc9ef45b985e8d96140a82d7e pics_count=4 type=user width=100% profile_wrap=no super_gallery=yes columns=4 force_columns=yes space_between_photos=1px icon_size=40px hide_date_likes_comments=no]
About the Staff
Find out who works at Mustang Powder. Who guides you, tail guides you, serves you a beer after skiing, prepares the food, cleans your room, massages you after your ski day, builds the road, makes the snowcats running, emails you when you have a questions and owns the place.
Our Lodge
The magnificent timber frame construction of the Mustang Lodge is a work of art. The high elevation of the lodge (1740m / 5700 ft) means that the views from the lounge, dining room and bedrooms are spectacular.