Highly discounted cat skiing at Mustang Powder Lodge
Due to Covid-19, our American and overseas guests are not coming to Mustang Powder Cat skiing this winter. Therefore we have lots of newly available ski and snowboarding holidays open during our season from early December to early April. All of these seats are discounted 20%, except for late January and February which remain at full price. This is your opportunity to have a holiday at Mustang, which is arguably the best Cat skiing on the planet.
Weather, News and last minute Seats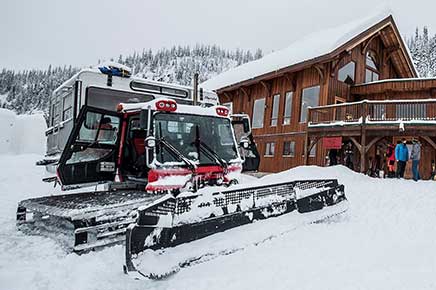 In compliance with the current provincial government orders issued by the BC Provincial Health Officer, Dr. Bonnie Henry, on January 8th and in effect until February 5th 2021, we are postponing our season opening through to February 15th.
Our Skiing Programs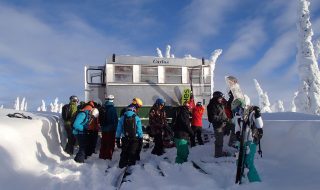 This has been the standard model for the Cat Skiing industry for many decades, and is an excellent and affordable option. You have the choice of forming a full group of 12 of your friends, or booking as a solo, couple or small group and we will slot you into a cat with other guests.
Safety
At Mustang Powder our #1 priority is your safety. We have developed a comprehensive safety program and have put together a team of guides made up of some the top and most influential professionals in the avalanche industry. All of our guides are members of the Association of Canadian Mountain Guides (ACMG) as well as the Canadian Avalanche Association (CAA), and many have been guiding for 20 plus years. Click the button below to read more about our Safety Program at Mustang Powder.
Snow Warning
Be prepared for A LOT of deep snow! Our unique location in the Monashee Mountains of BC means we receive a lot more snow than most other Heli or Cat operations in the area. At Mustang Powder, it's no secret that we cater to the strong skiers and riders. Guests booking with us must be experienced and comfortable skiing or riding in knee-deep powder snow, with the possibility of even more after a big snow cycle. Less ambitious guests will be encouraged to pace themselves or sit out some runs if they are tired.
Weather and Snow Information
Current Temperature:  -3°C / 26.6°F
New Snow: 13cm / 0'5″ feet
Snow Depth:  175 cm / 5'9″ feet
About the Staff
Find out who works at Mustang Powder. Who guides you, tail guides you, serves you a beer after skiing, prepares the food, cleans your room, massages you after your ski day, builds the road, makes the snowcats running, emails you when you have a questions and owns the place.
Our Lodge
The magnificent timber frame construction of the Mustang Lodge is a work of art. The high elevation of the lodge (1740m / 5700 ft) means that the views from the lounge, dining room and bedrooms are spectacular.