SKIING, SAFETY AND
GOOD SERVICE
We provide cat skiing in the
Monashee Mountains of British Columbia.
GOURMET FOOD
AND BC WINES
While powder skiing may be our biggest
passion, good food is a close second.
SMALL GROUP
PRIVATE CATS
Groups are able to travel through the terrain
faster and smoother.
SMALL GROUPS,
STEEP CHUTES
This program is for fit, keen, expert skiers
who want to ski big, steep challenging terrain.
OUR LODGE
With over 12,000 sq. ft. Mustang Lodge
is roomy and comfortable.
WE CATER TO THE
STRONG, KEEN SKIERS
You should be, at minimum, a very strong
and fit intermediate skier.
OUR SNOWCATS
At Mustang Powder we operate with
Pisten Bully (PB) snowcats.
Weather, News and last minute Seats
Guests Registration is now online through our Guest Portal. This portal allows you to log in to our system, fill out your registration details including contact, dietary, and medical information and then easily update it if needed. You can also review our Release of Liability Waiver, book a massage in advance, find links to ski rentals, access our trip Information Book, view our 2020/2021 availability, and more.
Our Skiing Programs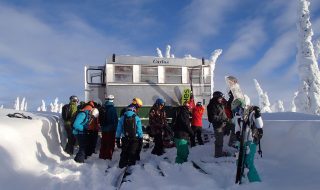 This has been the standard model for the Cat Skiing industry for many decades, and is an excellent and affordable option. You have the choice of forming a full group of 12 of your friends, or booking as a solo, couple or small group and we will slot you into a cat with other guests.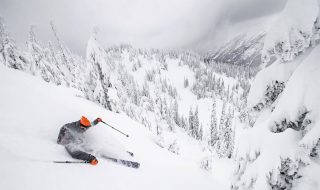 In 2010/2011 we added a "Small Groups, Steep Chutes" program to the roster – a third snowcat with only 6 guests skiing big, steep, challenging and interesting runs, with some ski touring. The program has been a great success with a lot of first descents and sweet couloirs.
Imagine a large comfortable passenger cab for just you and five or six of your friends. We believe that our private group program is the finest cat skiing experience on the planet. You can ski steep or gentle, quickly or slowly – the choice is yours.
Safety
At Mustang Powder our #1 priority is your safety. We have developed a comprehensive safety program and have put together a team of guides made up of some the top and most influential professionals in the avalanche industry. All of our guides are members of the Association of Canadian Mountain Guides (ACMG) as well as the Canadian Avalanche Association (CAA), and many have been guiding for 20 plus years. Click the button below to read more about our Safety Program at Mustang Powder.
Snow Warning
Be prepared for A LOT of deep snow! Our unique location in the Monashee Mountains of BC means we receive a lot more snow than most other Heli or Cat operations in the province. At Mustang Powder, it's no secret that we cater to the strong skiers. Snowboarders must be expert riders. Guests booking with us must be experienced and comfortable skiing or riding in knee-deep powder snow, with the possibility of even more after a big snow cycle. Less ambitious guests will be encouraged to pace themselves or sit out some runs if they are tired.
Weather and Snow Information
NEXT UPDATE – NOVEMBER 2021
Current Temperature:  –°C / –°F
New Snow: — cm / –'–" feet
Snow Depth:  — cm / –'–" feet
Instagram @mustangpowder
To see the Instagram feed you need to add your own API Token to the Instagram Options page of our plugin.