Getting to Mustang Powder
Mustang Powder is easily accessible by major highways from either the east or the west. Regional and international airline service is also available to Kelowna International Airport with direct flights from Vancouver, Prince George, Edmontin, Calgary, Seattle, Toronto and Honolulu. Car rentals are available at the airport, or for larger groups, bus service may also be obtained.
Mustang Powder Cat Skiing guests will meet our meeting spot 44 km west of Revelstoke or 28 km east of Sicamous. This is near Craigallachie, site of the "last spike" in the Canadian Pacific Railroad. Guest vehicles will be left at our meeting spot. You will travel to the lodge on the evening prior to the first day of your holiday. Arriving at the time provided to you in the Guest Information Package sent to you prior to your trip, and in the Pre-Trip Heli Email if you are flying in.
*Please note: google maps link shows as Perry River Rd. Sign on the highway is for Avoca West Rd.*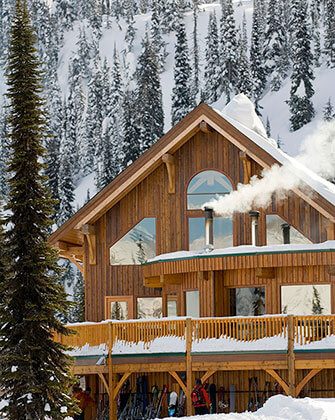 You will need to arrive at our Meeting Spot at the time listed on your invoice,  on the day prior to your ski trip dates. For example, if your trip dates are January 12-15, you will be coming up to the lodge on January 11, skiing the 12, 13, 14, 15 then heading out the evening of the 15th.
*Please note: google maps link shows as Perry River Rd. Sign on the highway is for Avoca West Rd.*
Directions to the Mustang Meeting Spot
Coming from the West (Sicamous, Kelowna, etc):
Turn north (left) off the Trans-Canada Highway on Avoca West Rd. It's about 28 km East of Sicamous. Shortly after the 'Last Spike' at Craigellachie, the highway becomes 4 lanes. You'll see a blue sign that says 'Mustang Powder Cat Skiing'. About 300 m later, you'll see the turn off for Avoca West Rd. on the left.
Coming from the East (Revelstoke):
Turn north (right) off the Trans Canada Highway on Avoca West Rd. It's about 44 km West of Revelstoke. About 2 km after Crazy Creek, the highway becomes 4 lanes. Shortly after this you'll go across a bridge and then about 500 m past the old burnt down gas station, you'll see the turn off for 'Avoca West Rd. on the right.
From Seattle or Vancouver, we recommend travelling Highway 5 (Coquihalla) to Kamloops, then east through Sicamous on Highway 1.
All of these routes are on major highways and conditions are usually good. Current Highway reports can be found on Drive BC's Highway Report.
Please note: All guests will be flown directly into the lodge. Cost is $120.00 CAD each way for the helicopter transfer to & from the lodge.  Since the helicopter flight is weather dependent it will be paid directly to Glacier Helicopters after your trip once we know if you were able to fly in and out.
If you plan to travel from the east, please note that during the winter time Roger's Pass is especially susceptible to delays and closures. For this reason, we recommend that guests do NOT fly into Calgary and ski in the Rockies prior to your trip. It is much more sensible to fly into Kelowna and ski Big White or Silver Star – since there are no high mountain passes between these resorts and Mustang Powder. Visit the following websites for more info:
If you are keen to fly from Kelowna airport please contact Glacier Helicopters:
1-800-316-7790 or flights@glacierhelicopters.ca
Guests who want to travel between Kelowna and the lodge via helicopter should organize this directly with the helicopter company and inform us by email once they have done so.
Can I leave earlier if I have to?
Mustang is a VERY remote lodge and logistics are challenging and often extremely difficult. We do guest exchanges with snowcats and helicopter, but to get a single person out to civilization by snowmobile is usually difficult, and often impossible via snowmobile since they get stuck if it is snowing lots. Snowcats and a helicopter can make it out much easier. Furthermore we only get our access road ploughed for guest exchange dates, and it is often impassable on other days (if it snowing lots). So the answer is yes, but only if you pay for a helicopter to come in and pick you up. The price would be slightly less than $1000.
Travel by Plane
All guests should fly into Kelowna, BC, arriving no later than 12:00 noon the day before your trip starts. Return flights should not be booked out of Kelowna before 8:30 PM on your last day (we advise that it is best if you fly out the following morning). If you live in Canada or overseas you should fly to Kelowna via Vancouver, Calgary or Toronto. Contact the following Airlines:
West Jet: 1-800-538-5696
Air Canada: 1-888-247-2262
If you live in the USA then flying via Seattle will probably be best.
Alaska/Horizon Air: 1-800-252-7522
You can now get direct flights from Vancouver to Revelstoke. Visit See Revelstoke for flight times. Please contact us for Mustang guest promo code.
To ensure that your boots arrive with you, it is recommended that you carry them as hand luggage when traveling by airplane. If you are part of a small group the most economical way to travel to the lodge is to rent a car or mini van.
Budget: 1-800-268-8900 (please contact us for Mustang guest promo code)
National: 250-765-2800, 1-800-227-7368
Hertz: 250-765-3822, 1-800-263-0600
Shuttle Service by Helicopter
Please note: Starting for the 2019/2020 season all guests will be flown into the lodge starting right from the first trip and will run all season! Cost is $110.00 CAD each way for the helicopter transfer to & from the lodge. Since the helicopter flight is weather dependent it will be paid directly to Glacier Helicopters after your trip once we know if you were able to fly in and out.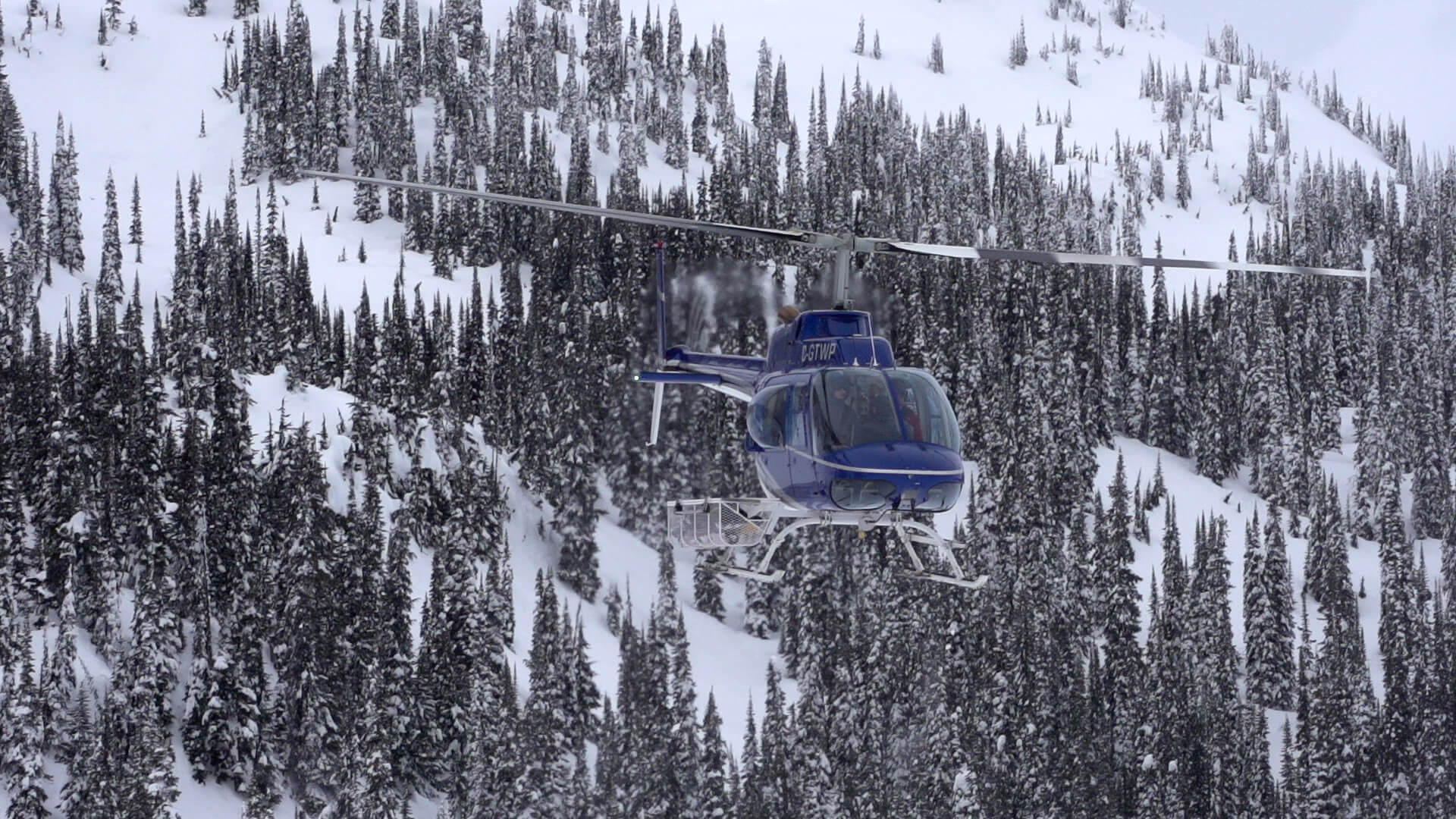 Traveling Home
It is best to book a flight out the following morning. The stringent new security measures for guests traveling outside of Canada require arrival two hours prior to departure. Please understand that we are not able to transport guests from the lodge early to accommodate flight schedules.
Accommodations
The Best Western Inn
Kelowna offers Mustang Powder's guests a corporate rate of $119.00 per night. This price is for double or single occupancy and includes a deluxe continental breakfast. Up to four adults can stay in one room at $15.00 each for the 3rd and 4th person. Shuttle service to the airport is also available. To book call 1-888-860-1212 and ask for the Mustang Powder preferred rate.
Four Points by Sheraton
The Four Points Hotel located adjacent to the Kelowna airport, also offers Mustang Powder's guests discounted rates throughout the season, please see their rates calendar below. Visit the Four Points' website for property details and availability.
| | | | |
| --- | --- | --- | --- |
| Room Type | Single/ Double | Triple | Quadruple |
| Traditional    (King, Two Queens) | $161 | $176 | $191 |
Ski & Stay Packages
At the Holten Heritage House in Revelstoke
Owed and operated by Mustang Powder, Holten Heritage House B&B offers a relaxed atmosphere in the heart of Revelstoke, within easy strolling distance to downtown shops and eateries. We are also a short drive or shuttle ride from many of Revelstoke's famous hiking and biking trails, Revelstoke Mountain Resort, etc.
Our Bed & Breakfast offers a variety of sleeping arrangements, a delicious breakfast served family style, and we are pet friendly.
For reservations call: 1-250-837-2801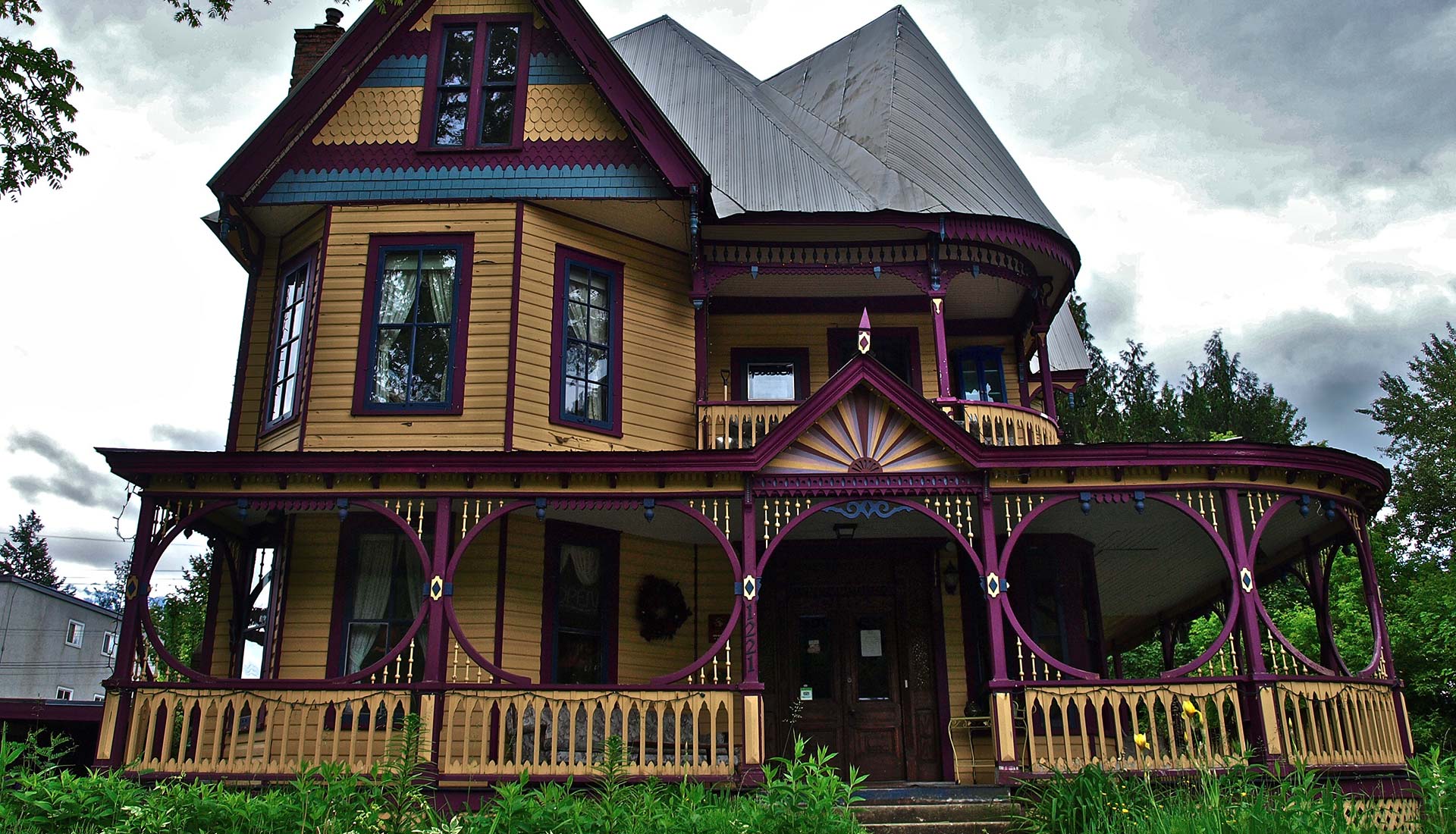 Fly or Drive?
Unless you are going to ski at resorts along the way, we discourage flying to Spokane, Vancouver or Calgary and then driving to Mustang Powder. Flying to Kelowna is the best plan. Due to the potential for delayed planes, lost luggage, avalanche road closure etc. we advise all of our guests to arrive in the area an extra day early and go skiing at one of the local resorts. Please be advised that the road between Calgary and Revelstoke is periodically closed for avalanche control work. Refunds cannot be given to guests who fail to arrive at our meeting spot in time for the bus and snowcat ride to the lodge.
Wandering Wheels runs a shuttle service from Revelstoke to Mustang and from Kelowna to Mustang. There's a minimum 4 passengers required, max capacity is 12 passengers. 15% discount for round-trip bookings and they can be very flexible with timing. To book contact info@wanderingwheels.ca.
Traveling times by car to Mustang Powder
Vancouver to the Mustang Meeting Spot: 518 km, 322 miles, 6.5 hours
Calgary to the Mustang Meeting Spot: 452 km, 281 miles, 6 hours
Seattle to the Mustang Meeting Spot: 634 km, 394 miles, 7.5 hours
Spokane to the Mustang Meeting Spot: 465 km, 289 miles, 8 hours
Kelowna Airport to Mustang Meeting Spot: 158 km, 98 miles, 2 hours
Silver Star and Big White Ski Resort
Many of our guests enjoy doing a day or more resort skiing locally prior to cat skiing with us. Silver Star is the most conveniently located since it is only a one hour drive from Kelowna airport and 20 minutes from Vernon. Silver Star is best known for its dry, feather light champagne powder snow, famous to the Okanagan region. Silver Star has an excellent mix of terrain featuring groomed or gnarly and steep. The mid-mountain Victorian style village offers charming, comfortable ski-in/out accommodations for every budget. For more information visit: www.skisilverstar.com or www.bigwhite.com.
Customs and Border Information
US citizens now require a valid passport to enter Canada. Also remember to pack you driver's license or photo ID, but do not pack alcohol, firearms, drugs, fruit, tobacco or meat. The officials at the border may well pry into your personal history, the purpose of your visit, and what you are bringing with you. Please be prepared for this interrogation.
U.S. Citizens: If you don't already have a passport you will need to apply for one right away! If you do have one make sure to check the expiry date.
For more information visit the Canada Border Services Agency.