Safety Program
At Mustang Powder our #1 priority is your safety. We have developed a comprehensive safety program and have put together a team of guides made up of some the top and most influential professionals in the avalanche industry. All of our guides are members of the Association of Canadian Mountain Guides (ACMG) as well as the Canadian Avalanche Association (CAA), and many have been guiding for 20 plus years. The most important factor in risk avoidance is planning and preparation and we have developed our safety program with this in mind. Mustang Powder is also a member of HeliCat Canada, ensuring that we meet a comprehensive set of operating guidelines. Despite the numerous measures we take in order to make your backcountry holiday as safe as possible, it is important that guests understand that the mountain environment is dangerous, and that you accept the inherent risks of being in the back country. All guests are required to sign a liability waiver prior to skiing or snowboarding.
When staying at a backcountry lodge, there are a couple safety issues which you must also be aware of. All of these issues are covered during our first night's speech.
At the lodge we have a first aid room with all the necessary supplies, so if you do need anything during your trip, i.e. ice, tensor bandages, band-aids, mole skin for blisters or anything else, please let us know. We also have an automatic external defibrillator (AED) at the lodge and our entire staff is trained to use it.
Morning Meeting
Every morning our guides meet to discuss conditions of the snow and decide on which runs are suitable to ski that day. Along with all of their first hand observations, our guides also read though the CAA's InfoEx. This is the information exchange between most cat-ski, heli-ski and resort based operations around British Columbia. It includes weather and avalanche observations as well as any significant information about the snow pack at over 50 locations around BC. The InfoEx allows our guides to get a feel for what is happening around the province, and when combined with a thorough examination of all of their own observations, they are able to predict the conditions and plan their day accordingly.
On the morning of the first day of your trip the guides will spend about 30 minutes with you talking about safety. They will cover all the important techniques for you to ensure your own safety along with some tips to help others out as well. After this safety talk we will head outside and the guides will spend about an hour doing transceiver training with you. This will be an opportunity to familiarize yourself with your transceiver and give you the confidence to use it. After the transceiver training there will be a cat safety talk to make you aware of all of the things you need to be conscious of when around the cats. Then it's time to go skiing.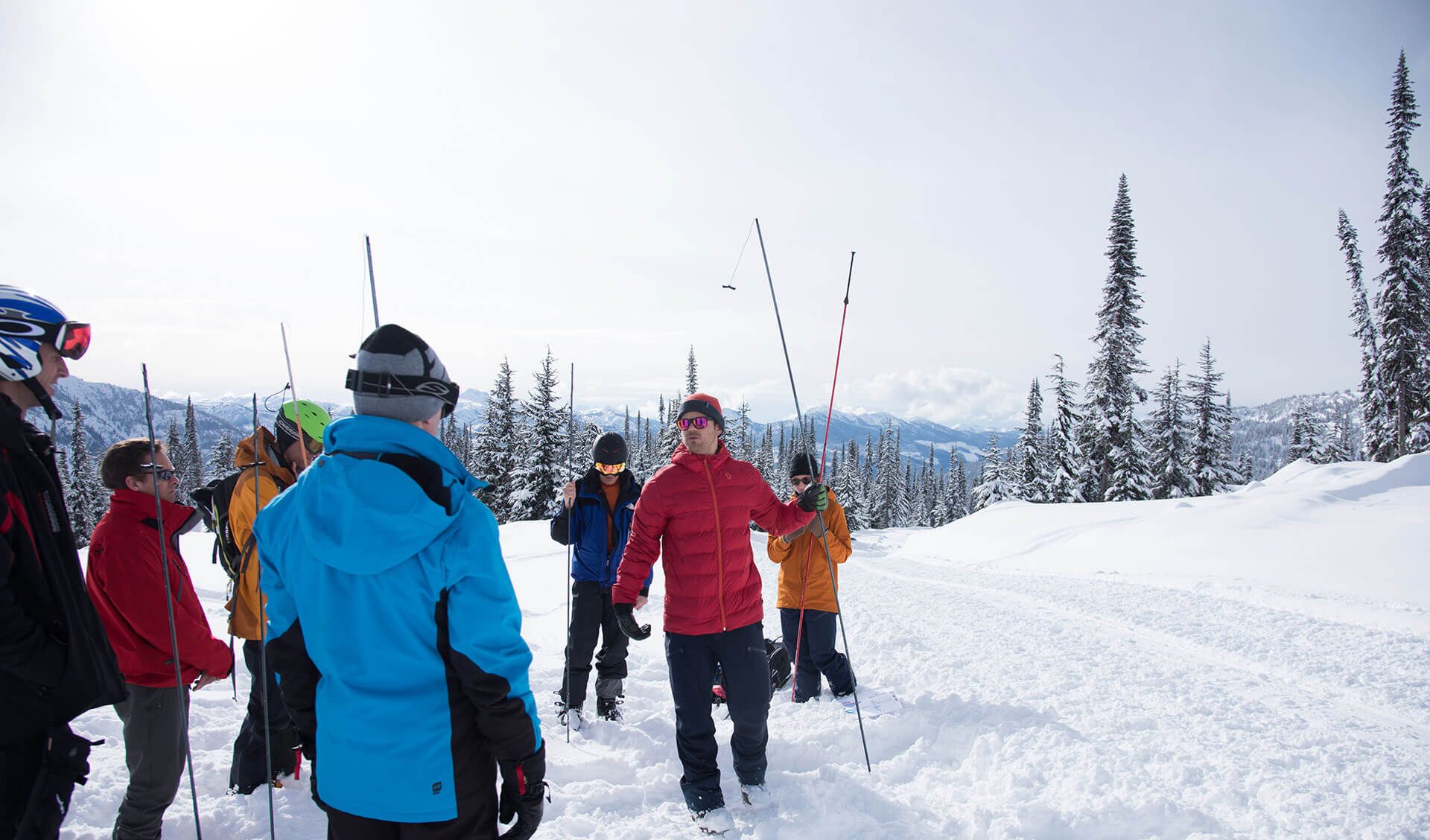 *New* Mammut Avalanche Air Bag Guest Packs and Radios
Each guest at Mustang Powder will be provided with a Mammut Air Bag, transceiver, a shovel, a probe, and a hand held radio. All of our guides and tail guides carry a pack that includes a shovel, an avalanche probe, a larger first aid kit, and an extra layer. All of our guests and guiding staff are required to have a radio with them at all times out in the field. Guest radios provide communication within each group, and guide radios allow for communication with both the snowcats and the lodge from anywhere on our tenure.
In the event of an emergency, our guides are able to radio the lodge, who would then call for back-up, allowing our guides to focus on the situation instead of being distracted dealing with arrangements.
Guides Training and Professional Development
Our guides continually update their first aid training and participate in avalanche rescue practice. During our staff training at the start of every season, we practice large scale avalanche rescue and emergency scenarios to ensure that we are fully ready for anything which may happen.
Explosives Control
At Mustang Powder we also do some explosives control in certain locations. We use the explosives to artificially trigger instabilities in the snow pack in order make areas safe to ski.