We recently replaced about half of our ski rental fleet, but kept a few pairs of some of the favourites.
We are now able to offer one of the best and most diversified fleets in the backcountry skiing industry. We offer everything from the most innovative skis on the market, to soft, easy-ride powder skis, to stiff skis for big high-speed turns and everything in between. To determine what skis work best, guests are encouraged to try out many different types of skis.
Ski rentals are $35/day (compared to $45-$50 for similar skis at any resort), and you can try different skis each day if you would like.  For guests participating in our Small Groups Steep Chutes program, we have ski touring set-ups with skins for $50/day.
Please note that all of our touring skis have Tyrolia Adrenalin bindings, which have touring capabilities, but ski like a regular binding, so can be used by any guests.  Just be aware that guests in our Small Group, Steep Chutes program have priority on these skis, so if you are not in this program but rent touring skis, we may need to find you a suitable substitute.  Thank you for your co-operation.
Our fleet includes:
Armada ARV 116 JJ
The iconic Armada ARV 116 JJ continues to carve its name into ski lore, coming correct with an all-new poplar and ash wood core for increased response popping between pillow lines and tree shots. The new JJ also adds confidence with a revamped flex profile to stiffen up tip and tail in tight conditions and no-fall zones. 3D bevelling on the tips/tails of the base is brought to you through Smear Tech, allowing limitless directions of drifting/pressing and smearing as you put your signature on the mountain.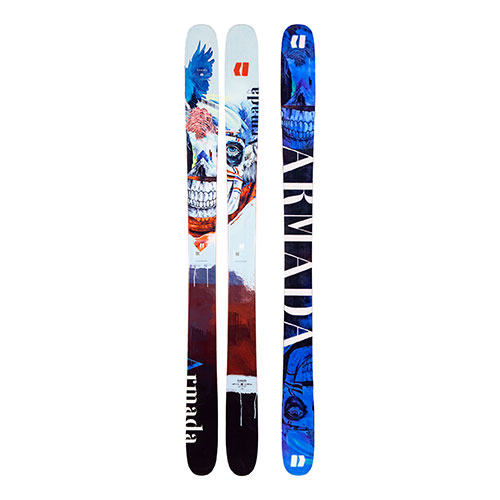 Armada JJ 2.0
More speed. Better control. Superior agility. That is the mantra of the Armada JJ 2.0 Skis. Nimble like a grasshopper for a ski of its size, the JJ's execute at a higher level than any other powder freestyle ski on the market. Crafted with EST Freeride Rocker, these Armada skis have positive camber underfoot and rocker in the tip and tail so you float in the fresh stuff and dig in when you're skiing the hard stuff. Twice as good as the original JJ, the more gradual taper of the 2.0 offers better flotation at slower speeds and better grip in steep terrain. Ski legend and Armada co-founder JP Auclair lives on in the JJ 2.0; throw him a word of gratitude on your next pow day.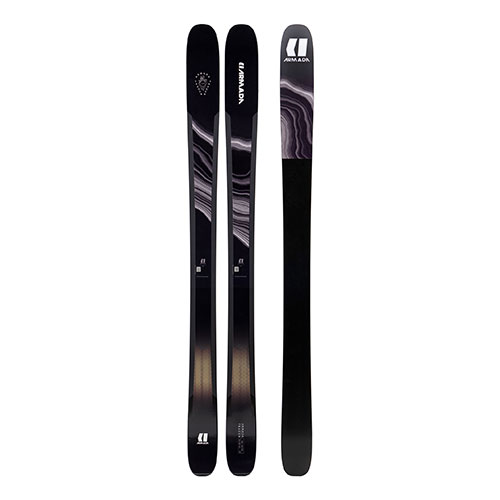 ARMADA TRACER 108
The perfect combination of weight reduction and stability, the Armada Tracer 108 is a lightweight ski that likes to hang outside the ropes. This ski ups the performance ante with dampening Xrystal Mesh, titanal reinforcement underfoot and sidewall construction to create just the right feel whether used by freeriding or touring enthusiasts.
ARMADA WHITEWALKER
The Whitewalker 121 is the big brother to the original Whitewalker, designed for Sammy's full-throttle charging on the deepest days. It's the ultimate pow-crushing freestyle tool. The 121 waist delivers massive float to swivel, slash and stomp forwards, backwards and sideways in the most epic conditions. The ultralight core means the Whitewalker 121 is light enough for big days in the backcountry during huge storm cycles, while the stout flex with Swivel Tech 3D beveling in the pin tip and tail deliver versatility for everything from charging steeps to buttering pillows.
BLACK CROW ANIMA
For the modern big mountain skier, few skis deliver the confidence and excitement of the Black Crows Anima Skis. Built for stability in the steepest, most intimidating terrain, the Anima lets you run full-throttle while the dual rocker and progressive tip rise retain manoeuvrability for last second corrections and turn shape changes. Eager to rip the gnarliest lines your mountains have to offer, the Black Crows Anima Skis are the hard-charging pow-day weapon that you'll find yourself reaching for even when the snow report indicates they only got a couple inches overnight.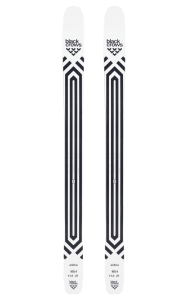 BLACK CROW NOCTA
The perfect powder ski is an illusive beast. You want it to be playful, because what's deep powder for, if not to play on? But also, you need it to be big and beefy. Because that huge powder day is the best chance you're going to have to hit that huge cliff or tick off that big line you've been eyeing all season. And above all else you need it to float. The Black Crows Nocta Skis aim to strike the perfect balance of all these things. With a long sidecut, stout flex, and full rocker profile, they are stable and powerful when it's gas pedal time, and loose and surfy when it's time for some hippy turns. Power day perfection.
BLIZZARD HUSTLE 11
We've all heard the old "no friends on a powder day" adage, but the Hustle 11 freeride ski might just be your new besty. Built off a tried-and-true freeride-oriented profile so it's got all the gas you need to send that big line you've been eyeing for years, especially when it gets deep. Powered by an all new, TrueBlend Free wood core that shaves some weight so you can go further and charge harder.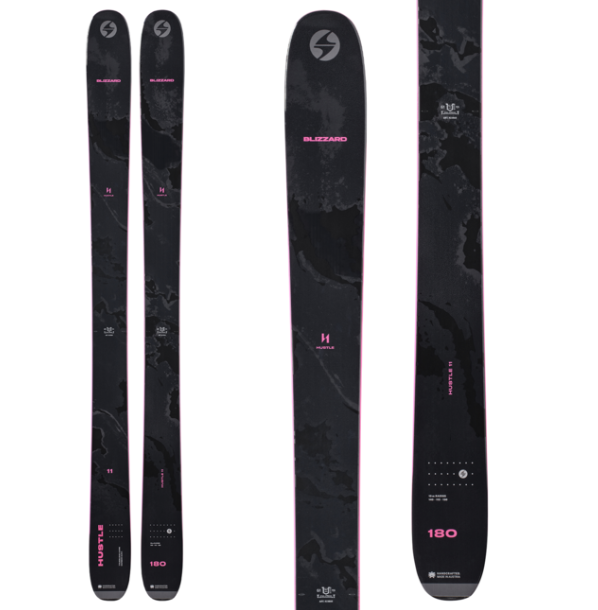 BLIZZARD SHEEVA 10
The Sheeva 10 is fun and forgiving while offering up stability and versatility. From pow to packed pow and anything in between, this ski will make any turn shape at any speed in any terrain effortless. Carbon Flipcore D.R.T. and W.S.D. – Women's Specific Design – construction combine to deliver a confidence inspiring, elevated skiing experience. Who wants to work hard when you can play harder?
BLIZZARD SPUR
The Blizzard Spur has undergone a lot of transformation over the last few years, from mega-sized Cochise to asymmetrical powderhouse, but one thing has been constant: it's only come in one giant length geared for super aggressive powder skiing. For this year, all that has changed. Meet the new-look Blizzard Spur Skis, bringing powder to the people. This brightly colored ski is still super fat and lives to play on the deepest days. It's super surfy and playful, helping you squeeze even more smiles out of your powder day. So come say hi, the Spur won't bite!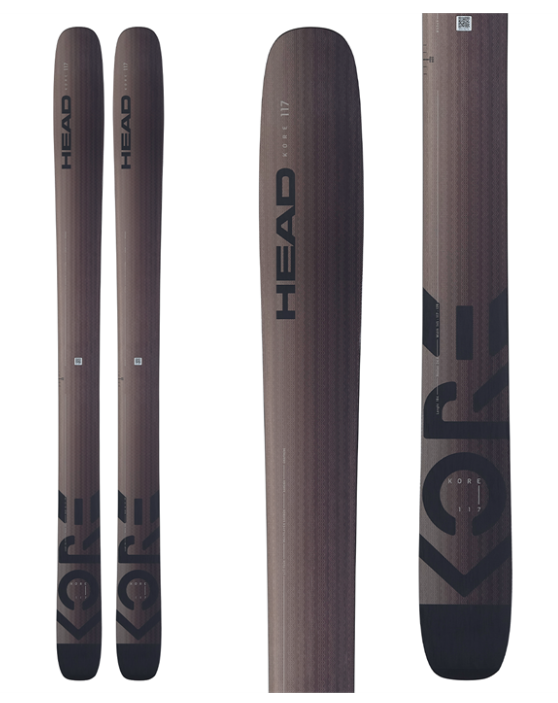 HEAD KORE 117
More width and more power in a lightweight Kore package is just what the doctor ordered for those thigh-deep days, and the Head Kore 117 Skis want to fill your prescription in best possible way. Head does light "right" by starting with a stout Karuba-Poplar core and adding Graphene, two layers of carbon fiber, and their legendary Sandwich Cap construction, all guided by years of making the best competition skis in the world. Get yourself some goods, and get them better, with the Kore 117.
K2 MINDBENDER 116
Another implementation of K2's Torsion Control Design, patented Spectral Braid is a first-of-its- kind variable-angle fiber reinforcement that allows for precision-tuned torsion and flex by altering the fiber orientation along the length of the ski. Lively, energetic, and composed, skis with K2's Spectral Braid have stability and control in spades while remaining extremely maneuverable.
K2 Pon2oon
Shane McConkey's energy and innovation changed skiing forever, and his legacy lives on in the innovative design of the Pon2oon.
Our Powder Rocker profile and a responsive Fir/Aspen core create an unsinkable ski for even the deepest of days. Outfitted with Carbon Boost technology, these Pon2oons will remain playful and rebound at every turn.
SURFACE ATTILA
The Attila is built to keep you floating, carving, and jibbing through even the deepest of snow; utilizing early rise in tip and tail, "low-profile" underfoot camber, and a 117mm waist to provide surf-like buoyancy in any snow condition paired with a full poplar wood core, full wrap 2.5mm steel edges, and a tough textured top-sheet for a durable and lively pow/backcountry freestyle ski.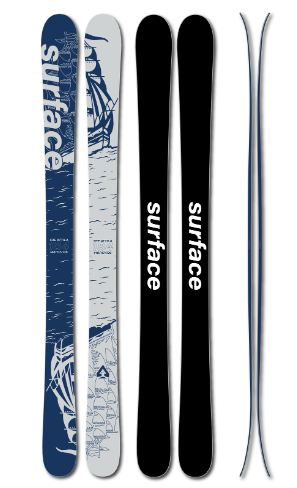 We also have a few pairs of the following:
K2 Mindbender 108
Armada Decliunty
POWDER SNOWBOARD & SPLITBOARD RENTALS
Due to lack of demand, we no longer provide snowboard/splitboard rentals at the lodge. Instead, we have chosen to partner with Revelstoke Powder Rentals, based out of Revelstoke, BC for all your snowboard/ splitboard needs. They have a great selection of boards.
To view their fleet and book a board, check out their website. Let them know you are a Mustang Powder guest, to receive their preferred Mustang Powder pricing.