We recently replaced about half of our ski rental fleet, but kept a few pairs of some of the favourites.
We are now able to offer one of the best and most diversified fleets in the backcountry skiing industry. We offer everything from the most innovative skis on the market, to soft, easy-ride powder skis, to stiff skis for big high-speed turns and everything in between. To determine what skis work best, guests are encouraged to try out many different types of skis.
Ski rentals are $35/day (compared to $45-$50 for similar skis at any resort), and you can try different skis each day if you would like.  For guests participating in our Small Groups Steep Chutes program, we have ski touring set-ups with skins for $50/day.
Please note that all of our touring skis have Tyrolia Adrenalin bindings, which have touring capabilities, but ski like a regular binding, so can be used by any guests.  Just be aware that guests in our Small Group, Steep Chutes program have priority on these skis, so if you are not in this program but rent touring skis, we may need to find you a suitable substitute.  Thank you for your co-operation.
Our fleet includes:
Armada ARV 116 JJ
The iconic Armada ARV 116 JJ continues to carve its name into ski lore, coming correct with an all-new poplar and ash wood core for increased response popping between pillow lines and tree shots. The new JJ also adds confidence with a revamped flex profile to stiffen up tip and tail in tight conditions and no-fall zones. 3D bevelling on the tips/tails of the base is brought to you through Smear Tech, allowing limitless directions of drifting/pressing and smearing as you put your signature on the mountain.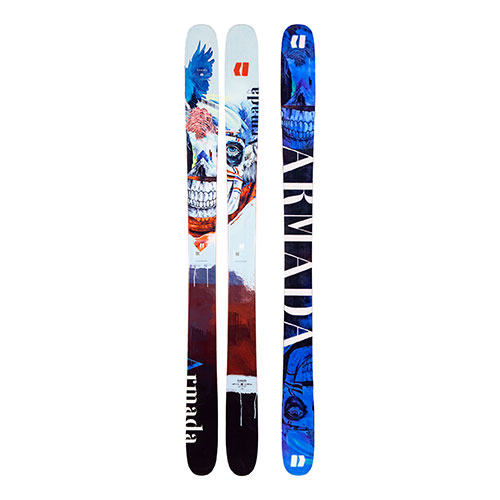 Armada Tracer 108
The perfect combination of weight reduction and stability, the Armada Tracer 108 is a lightweight ski that likes to hang outside the ropes. This ski ups the performance ante with dampening Xrystal Mesh, titanal reinforcement underfoot and sidewall construction to create just the right feel whether used by freeriding or touring enthusiasts.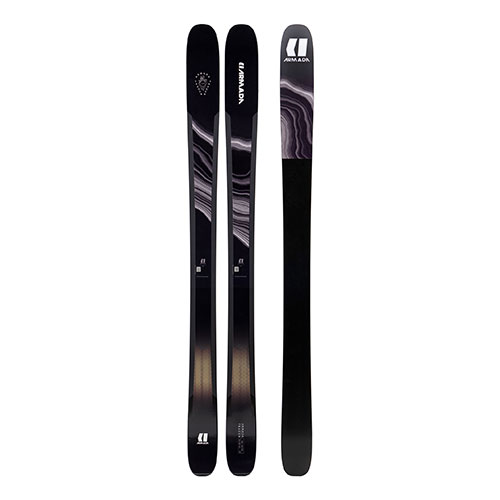 Blizzard Rustler 11
Whatever the conditions, with the Rustler 11 you'll be grinning all day long. It is founded on two signature concepts, Carbon Flipcore D.R.T Technology and an innovative waist concept: the longer the ski, the wider the waist which gives ambitious freeriders and freeride athletes more control and float, even on steep terrain. The smooth rocker-camber-rocker profile make it responsive and stable yet super playful in softer snow and powder conditions and on any type of terrain. The Rustler 11 is the ultimate resort powder ski.

Blizzard Sheeva 11
Light and playful, yet stable and confidence inspiring, the Sheeva 11, with Carbon Flipcore D.R.T Technology, a women's specific design and a progressive shape and rocker profile, is the answer for lady shredders of all types seeking the ultimate powder ski. Ski better and have more fun while seeking out those special, pristine untracked stashes on the mountain.

Blizzard Sheeva 10
The Sheeva 10 is fun and forgiving while offering up stability and versatility. From pow to packed pow and anything in between, this ski will make any turn shape at any speed in any terrain effortless. Carbon Flipcore D.R.T. and W.S.D. – Women's Specific Design – construction combine to deliver a confidence inspiring, elevated skiing experience. Who wants to work hard when you can play harder?
Black Crow Nocta
If it's a pow day but you don't have the Black Crows Nocta Skis, is it even really a pow day? As the girthiest gliders in the line, the 122mm waisted Nocta Skis are born and bred for the deeps. A full reverse camber profile and extended sidecut work together to generate excellent float and effortless turns in pow while avoiding a squirrelly feel when you want to open things up and charge. Playful and virtually unsinkable, the Black Crows Nocta Skis are ready to revolutionise your understanding of what it means to ski powder.
Black Crow Anima
For the modern big mountain skier, few skis deliver the confidence and excitement of the Black Crows Anima Skis. Built for stability in the steepest, most intimidating terrain, the Anima lets you run full-throttle while the dual rocker and progressive tip rise retain manoeuvrability for last second corrections and turn shape changes. Eager to rip the gnarliest lines your mountains have to offer, the Black Crows Anima Skis are the hard-charging pow-day weapon that you'll find yourself reaching for even when the snow report indicates they only got a couple inches overnight.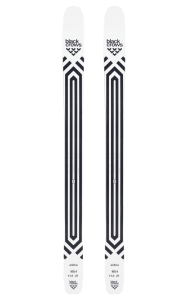 Armada Bubba
With fat rocker in tip and tail and minimal camber underfoot, the Bubba's EST Powder Rocker is designed to float like a boat across the deepest powder oceans on the planet. The Hybrid Ultralight Core is made from lightweight wood with an exceptionally high strength-to-weight ratio, making these planks surprisingly playful given their girth, and topped with a fibreglass laminate matrix that keeps them from feeling noodly when speeds are high. That said, the Bubba is reasonably soft in the tip (the Magic J gets a 6.5 tip stiffness rating, while the Bubba scores a full point lower), so it won't bulldoze through chop, but it also won't dive or hook up unexpectedly in the most unreasonably deep snow of the season. The AR50 Sidewall sports a cap construction in the tip and tail with a classic sidewall underfoot, providing the perfect blend of aggressiveness, durability, and low swing weight.
Armada Magic J
Rally in the deep, brap pillows like the Ski Boss, and step out natural hits on the Armada Magic J Skis. Tanner Hall has cemented his legacy in all facets of the young sport of freeskiing, and when he focuses on real skiing on real mountains doing real tricks, he always reaches for the Magic J's. Ride high through bottomless blower, butter off of lofty BC booters, and charge across gnarly pillow fields that only Mother Nature could conjure up with the ultimate powder weapon — the Armada Magic J Skis.
Armada JJ 2.0
More speed. Better control. Superior agility. That is the mantra of the Armada JJ 2.0 Skis. Nimble like a grasshopper for a ski of its size, the JJ's execute at a higher level than any other powder freestyle ski on the market. Crafted with EST Freeride Rocker, these Armada skis have positive camber underfoot and rocker in the tip and tail so you float in the fresh stuff and dig in when you're skiing the hard stuff. Twice as good as the original JJ, the more gradual taper of the 2.0 offers better flotation at slower speeds and better grip in steep terrain. Ski legend and Armada co-founder JP Auclair lives on in the JJ 2.0; throw him a word of gratitude on your next pow day.
K2 Pon2oon
So much snow you wish you had a snorkel? Don't even think about grabbing those skinny skis—you need the super-fat K2 Pontoons to stay afloat! The K2 Pon2oons are the second generation of the Shane McConkey inspired ski that changed how we think about powder skiing. A handful of modifications were made to the original to make it more aggressive — particularly at high speeds — while still maintaining its surfy feel. These changes include: a stiffer tail, less rocker (it still has plenty) and less pintail.

Rossignol Super 7
Climb aboard the flotatious Rossignol Super 7 Skis for premium powder performance and freeride fun. It is a revolutionary, lightweight fusion of backcountry, freestyle, and freeride performance for expert to intermediate skier. A super capable powder ski, the Super 7 will perform at the highest level in the deep stuff but still hold a strong edge on the groomed for the ride back to the lift. Made with Rossignol's Air Tip Construction that lowers the swing weight of the ski, and allows it to really pivot and maneuver in tight spots when things can get hairy. With its Free V.A.S. and Diago Fibers you can expect both stability and quickness, enabling this ski to charge big mountain terrain. Embark on your next powder day, backcountry adventure, or big mountain line with a pair of skis that will not disappoint, the Rossignol Super 7 Skis.
Völkl 100Eight
A lighter, more manoeuvrable version of the beloved Gotama, the Völkl 100Eight Skis feature the minimalist 3D ridge construction to drastically reduce mass in the body of the ski without losing the power and performance you've come to expect from Völkl. The 108 mm waist simply kills it in everything from smooth groomers to a foot of fresh; you'll be hard pressed to find another ski that combines this much goodness under one topsheet. Full Rocker – Völkl Full Rocker is a smooth, gradual bend from tip to tail, with matching sidecut and a symmetrical flex pattern. All the benefits of extra maneuverability in soft snow while delivering smooth, sexy arcs on groomed terrain. The matching flex and sidecut on the full rocker gives you full, uninterrupted edge contact. The more the ski is on edge the more effective that edge becomes, and the resulting smoothness and predictability is uncanny.
We also have a few pairs of the following:
Armada TST
Blizzrd Dakota
K2 MissBehaved
Armada Tantrum
Volkl Shiro
POWDER Snowboard & SPLITBOARD RentalS
Due to lack of demand, we no longer provide snowboard/splitboard rentals at the lodge. Instead, we have chosen to partner with Revelstoke Powder Rentals, based out of Revelstoke, BC for all your snowboard/ splitboard needs. They have a great selection of boards, and we can coordinate with them to get your rental gear to and from the lodge for you if needed.
To view their fleet and book a board, check out their website. Let them know you are a Mustang Powder guest, to receive their preferred Mustang Powder pricing.