2021/2022 Season COVID Update -- COMING AUTUMN 2021
2020/2021 Winter Season COVID-19 Updates
COVID-19 Safety Plan for Mustang Powder Guests –

Updated February 5th, 2021
Please note: Our 2020/2021 season has been cancelled due to COVID.  Please see below for our operating policies should COVID continue into our 2021/2022 season.
We look forward to skiing safely with you in the future.
Safety is a priority in everything we do at Mustang Powder. This winter will be no different as we navigate the risks associated with COVID-19. In planning for our 2020-21 season, we are following the guidance of the Provincial Health Authority, WorkSafe BC, and our trade association, HeliCat Canada, in developing processes and protocols to prevent the transmission of COVID-19.
We have put in place a plan to keep our guests and staff safe and healthy. Aspects of this plan may evolve as health orders, safety guidelines, and recommendations regarding COVID-19 change.
For this plan to be effective we require your participation.  By choosing to attend your trip, you are declaring that you are willing to comply with the safety measures we have put in place.
During your entire Mustang holiday, it is the expectation that you will make every effort to respect the 2-meter physical distancing rule.   This rule can be somewhat more relaxed with your roommate and/or the group of close friends with whom you travelled to Mustang.
It is the expectation that guests and staff wash their hands numerous times a day and wear appropriate masks where physical distancing can not be achieved.   Hand sanitizer will be available throughout the lodge and it is the expectation that it is used upon entering any public area.
If you do not comply with our COVID-19 procedures, you may be asked to depart the lodge before the end of your trip. 
 Levels of Protection
Four distinct levels of control measures have been implemented in the development of Mustang Powders COVID-19 protocols and procedures. The control model is illustrated below.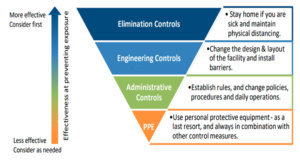 Elimination and engineering controls are designed to prevent people from coming into contact with an infectious person or contaminated surfaces and have been considered first in our plan. In spaces where physical distancing cannot be observed we have instituted occupancy limits and mask mandatory zones.
Face Masks
When worn properly, wearing a mask can reduce the spread of respiratory droplets. During your trip, it is recommended to wear a non-medical 3-layer face mask in all interior spaces. For everyone's safety, there will be mask mandatory zones in spaces where physical distancing guidelines cannot be maintained.
Mask Mandatory Zones:
Heliport Staging area
Helicopter (goggles and gloves mandatory)
Snowcat (goggles and gloves highly recommended)
Boot/drying room
Living/dining room*
Whenever moving around inside the lodge
Browsing retail
*Once you are seated in the dining room/living room you may remove your mask. However, if you need to get up from your seat for any reason, we will ask you to put your mask back on before getting up and moving around the lodge.   You should only use the bathroom in your bedroom ensuite.
Guests are required to bring two 3-layer, non-medical grade face masks to wear inside the lodge and weather suitable masks for inside the snowcat.
For information on suitable masks please see https://www.canada.ca/en/public-health/services/diseases/2019-novel-coronavirus-infection/prevention-risks/about-non-medical-masks-face-coverings.html
*Note: Regular Buffs are not a sufficient mask. We will have 3 layer "gaiter" masks (like a buff), which meet or exceed recommendations, available for purchase at a reasonable price at the Heli-port.   We will also have disposable masks available free of charge, in case guests forget to bring masks, or lose them during their holiday.
Masks are not required in these zones:
When you are in your bedroom or bathroom.
While skiing!!!
When outside of the lodge or snowcat – 2 meter spacing must be maintained
While seated and eating at your designated table
Heliport Staging area – Arrival
Upon arrival at our heliport, we will ask you to stay in your vehicle until it is your pre-assigned check-in time. Once your check-in window arrives, you will be welcomed by a Mustang Staff member to complete the COVID screening. If you arrive via shuttle you will be greeted and directed to an appropriate waiting area based on weather.  Please be prepared to wait outside (winter attire)
Upon check-in your temperature will be taken, and you will be asked a series of questions:
Do you have any of the following new or worsening symptoms or signs?
New or worsening cough – Yes / No
Shortness of breath – Yes / No
Sore throat – Yes / No
Runny nose, sneezing or nasal congestion (in absence of underlying reasons for symptoms such as seasonal allergies and postnasal drip) – Yes / No
Hoarse voice – Yes / No
Difficulty swallowing – Yes / No
New smell or taste disorder(s) – Yes / No
Nausea/vomiting, diarrhea, abdominal pain – Yes / No
Unexplained fatigue/malaise – Yes / No
Chills – Yes / No
Headache – Yes / No
Have you travelled outside of Canada or had close contact with anyone that has travelled outside of Canada in the past 14 days? Yes / No
Are you under the direction of the provincial health officer to self-isolate? Yes / No
Do you have a fever? Yes / No
Have you had close contact with anyone with respiratory illness or a confirmed or probable case of COVID-19? Yes / No
If your temperature is at or above 38 degrees and/or you are unable to answer no to all questions, you may be required to forgo attending your trip.
Transportation – Helicopter
Heli-Transport services will continue to be provided by Glacier Helicopters. Glacier Helicopters is regulated by Transport Canada and as such is subject to their regulations and safety measures set out to address COVID-19. The helicopter will be sanitized between flights, and masks, gloves and googles are mandatory in the flight.
Transportation – Bus
Due to weather, occasionally there are days where we cannot fly to the lodge. If this occurs, ground transfer to the lodge will be initiated by bus and snowcat. During the ground transfer, we will follow Transport Canada's regulations and safety measures set out to address COVID-19.  For example, masks must be worn at all times on the bus – no drinking or eating. The bus will be thoroughly sanitized between use and masks are mandatory in these zones.
Lodge – Arrival
Both guest rooms and common spaces in the lodge will be thoroughly sanitized between each new group of guests who arrive at the lodge. We will be keeping in coming and outgoing guests separate.
Living and Dining Room areas
Our dining room tables are physically set apart to provide small seating groups to promote socialization within your cat group and physical distancing.   Only 3 or 4 guests will share each table – which will be designated to those persons for their entire trip.    Only families and groups of roommates and close friends will be allowed to have more than 4 per dining table.
We are changing from bar service to table service to comply with the Provincial Health Order. Masks will not be required when you are seated but will be mandatory when moving around the Dinning room and lodge.
Breakfast service has been changed from buffet style to plated with a set menu. A hot breakfast and continental breakfast will be available.
Alternative Lounge Areas
Alternative lounge areas have been designated in the mezzanine; specific spaces will be assigned to specific Cat groups. These areas will provide smaller socialization spaces where guests can choose to mingle within their cat group.
Snowcats
Before getting inside the snowcat, guests and staff will be required to put on a face mask and wear gloves.  Googles /glasses are recommended.  Lunch will be eaten picnic-style outside where you will be able to remove your mask and ensure physical distancing amongst your group. The snowcats will be thoroughly cleaned and sanitized at the end of each day and deep cleaned between groups.
During the day snow cat windows will remain open for improved ventilation.  Therefore, guests will be required to dress warmly while inside the snowcat cab.
Leaving and arrival times of the snowcats will be staggered, to minimize the number of guests in the drying rooms at one time.  Additional Drying room space has been created to allow more distance between guests.  Each person will be assigned a specific area in the drying room.
Hot Tub
The hot tub will be open, but only roommates and/or close friends who traveled together can use it at the same time.  There will be a sign-up sheet for set time periods of use by each group. This may modify as regulations require it.
Guest Rooms
Congregation and parties in guest rooms will not be allowable.
Housekeeping and Guest Room cleaning
All areas of the lodge will be thoroughly cleaned and sanitized every day. Common areas of the lodge such as the dining and living room will be repeatedly sanitized after each use. Preceding the arrival of each tour group, common areas, and guest rooms will undergo deep cleaning.
In accordance with the laws of BC and Canada for the hotel industry, we will not be performing daily housekeeping in your room – meaning no housekeepers will go in your bedroom during your ski holiday.   If required, please request fresh towels from housekeeping or any Mustang Staff member
Massages
Unfortunately, to increase physical distancing massage services will not be offered this season.
Lodge – Departure
Due to our strict sanitizing schedule guests are not able to re-enter their rooms or the lounge on out-going exchange day.   You will be asked to wait in a specific area and avoid contact with in-coming guests.
Heliport – Departure
When you land back at our Heliport, you will be directed to pick up your luggage and go straight to your vehicle in the parking lot.  If you have a shuttle pick up, you will be provided a designated waiting area based on weather.
Mustang Lodge COVID Cancellation Policies
We also recognize that these are challenging times, so we have adapted our booking and cancellation policies to give our guests a good understanding of what to expect, should they not be able to attend due to COVID-related issues. Both our standard Cancellation Policy and our COVID-Related Cancellation Policy are attached below, for your reference. "